Owning Our Future: The Emerging Ownership Revolution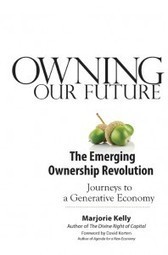 As long as businesses are set up to focus exclusively on maximizing financial income for the few, our economy will be locked into endless growth and widening inequality. But now people across the world are experimenting with new forms of ownership, which Kelly calls generative: aimed at creating the conditions for all of life to thrive for many generations to come. These designs may hold the key to the deep transformation our civilization needs.
by Marjorie Kelly
Read a 30-page excerpt of the book, including the Foreword by David Korten, Prologue, and first chapter.
See on marjoriekelly.com
September 17, 2012, 7:07pm