Forget 'Cellphone,' That's a 'Tracker' in Your Pocket - Truthdig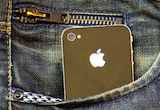 Mobile phone service providers collect user information and share it with the government, to the tune of at least 1.3 million disclosures per year. What if our nomenclature reflected that?
Peter Maass and Megha Rajagopalan, digital privacy reporters for ProPublica, argue that cellphones function primarily as tools for keeping tabs on their owners. And our best hopes for addressing the dangers inherent in that fact begin with calling them by their rightful name.
—Posted by Alexander Reed Kelly. Follow him on Twitter: @areedkelly.
See on truthdig.com